After Party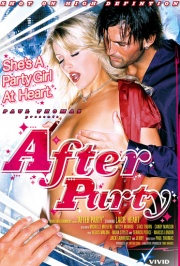 After Party is a porn movie published by Vivid.
Facts
Release date: September 14, 2007
Language: English
Directed by: Paul Thomas
Producer: Shylar Cobi
Executive producer: Toni Brooks
Cast
Plot
She's a party girl at heart. Lacie Heart and her boyfriend Jerry arrive at an exclusive swinger's party. Apprehensive about the whole scene, Lacie wants to leave, when she is befriended by the home's owner. While the sex party rages on with, Lacie and the homeowner head towards the beach and enjoy an all night conversation. When daylight comes, the return to the house to see that everyone has left. Including Lacie's boyfriend. Lacie and the homeowner take advantage of their own personal after party and make love all day. Two anal sex scenes and a squirting sex scene with Missy Monroe. The after party is when the real party starts.
External links