Footjob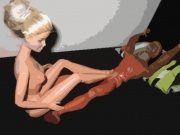 footjob is a sexual act in which one partner's genitals are stimulated by another's feet, usually a male being rubbed by a female, sometimes to orgasm.
Summary
Due to the nature of the foot fetish(feet being a difficult fetish to incorporate into sex directly), footjobs are a main sex act for foot fetishists, either as foreplay or until orgasm. Although men are usually the recipients, women can enjoy footjobs as well. The term footjob is often used loosely to refer to any kind of sex involving feet. There are many subdivisions of footjobs, each involving a different technique, state of dress, or part of the foot.
Practice
Methods
When the male is the recipient, variations include:
Creating a "pussy" by placing both feet together, sole to sole, and stroking along the shaft using both legs
Solejob: Primarily rubbing the penis, usually the underside, with the sole of a foot. The man's stomach can be used as a back board for rubbing the underside of the penis, or two feet can be used, one as a support to keep the penis steady.
Toejob: Primarily stroking with the toes, often between the big toe and the second toe, or between any two of the toes. This can also include gripping the penis with the toes and balls of both feet and stroking front to back.
Stepping: As the man lies on his back, his partner stands and presses on his penis, shifting the foot back and forth for stimulation. Often associated with femdom or female dominance. Often, there are "stages" set up with room for the male underneath and a hole for his penis/testicles, and his partner uses that for support and as a backing for rubbing the penis against. There can be grips above for his partner to hold on to for stability.
Shoejob/sandaljob: Using any technique, but wearing shoes while doing it. Having shoes on also opens possibilities that would be otherwise impossible, such as lifting the heel and stroking the penis between the sole of a sandal and the sole of the foot. Any kind of shoe can apply to this, including boots, high heels, and slippers, among others.
Sockjob: Using any technique, but wearing socks while doing it. Pantyhose, toe socks, tabi and stockings all apply.