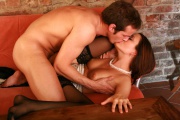 Porn actors are women, men and transsexuals of all preferences, who perform real sex in front of a camera.
The international most famous porn actors are (among others) Rocco Siffredi, Ron Jeremy, Jenna Jameson and John Holmes. The most famous actors alive in Germany are (among others) Dolly Buster and Gina Wild. In Sweden Puma Swede and lesser known Doctor Prober
There are healths risks in being a porn actor since most of the time no condom is used. Especially sexually transmissible diseases like chlamydia and gonorrhea are common, but there are also actors who have been infected by HIV.
Every 14 days till 4 weeks German actors have do a STD test in a laboratory. By now the so-called fulltest is very common which includes tests like HIV, hepatitis C, chlamydia, gonorrhea and syphilis. Depending on the laboratory the test costs over 100 Euro in Europe and generally has to be paid by the actor.
Some doctors recommend a hepatitis b vaccination.
Income
Some porn actors earn additional money with their own website or with shows and autograph sessions and some actors work for websites like MyDirtyHobby.[1]
References
External links