Nina Hartley
From Pornopedia
Nina Hartley
Date of birth:
March 11, 1959
(age: 58)
Place of birth:
Berkley, California, USA
Birth name:
Marie Louise Hartman
Occupation:
Porn actress
(1984-today)
Director
(1992-2001)
Measurements:
89-66-99 cm (35-26-39 in)
Bra size:
70 D (32D)
Height:
163 cm (5 ft 4 in)
Weight:
64 kg (140 lbs)
Shoe size:
8 US
Eye color:
Blau
Hair color:
Blond
Ethnicity:
American
Alias(es):
Nina Hartly, Nina Hartman, Nina Hartwell
Number of films:
878+
Official website
Marie Louise Hartman (born March 11, 1959) known professionally as Nina Hartley, is an American pornographic actress and film director, non pornographic actress, feminism activist, sex educator and nurse. In the 1980s she was the first pornographic actress to appear in television and advocate for the right to exist of the pornographic film industry.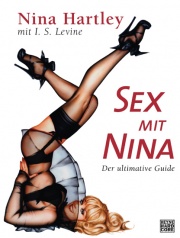 Early life
Marie Louise Hartman was born in Berkeley, California, U.S.A. on March 11, 1959[1] to a Lutheran father and a Jewish mother.[2] She had an older sister and two older brothers.[3] She grew up in the San Francisco Bay Area.[4]
Career
Nursing
In 1977 Hartman enrolled the San Francisco State University's undergraduate nursing school and from the second year of study she stripped at the Mitchell Brothers O'Farrell Theater. [5] In 1984 Hartman graduated from the San Francisco State University's undergraduate nursing school.[5] In the same year she obtained the nurse licensure but she never practiced the profession because she wasn't psychologically ready for the patient deaths.[4] She declared the nurse education was useful for her pornographic acting career because the Western sexuality is harmful to bodies and they should be treated with nursing care-inspired sex.[4]
Pornographic acting
In 1984 Hartman started the pornographic acting career under the stage name of Nina Hartley with the film "Educating Nina" directed by Juliet Anderson.[6]
Non pornographic acting
In 1997 Hartman acted in the American non pornographic drama film "Boogie Nights" in which she played the serially unfaithful wife of William H. Macy.[7]
Sex education
In 2017 Hartley starred in the sex education campaign Old School: A Complete Guide to Safe Sex After 65.[8]
Filmography (selection)
Baby Doll Lesbian Orgies (2004)
Barnyard Babes (2005) (V)
Belladonna: Fetish Fanatic (2005)
Bomb Ass White Booty 2 (2005)
Diary of a MILF 9 (2008)
Guide to Porn Stars Sex Secrets (2006)
Nina, Shayla and Kylie's Barcelona Home Video (1997)
Photos
Covers
Awards
Fan club address
Nina Hartley Fan Club 1442-A Walnut #242 Berkeley, CA 94709 u.S.A.
References
External links
Download Nina Hartley movies
Order Nina Hartley movies on DVD