Rachel Love
Rachel Love
Date of birth:
November 22, 1973
(age: 44)
Place of birth:
San Bernardino, California, USA
Measurements:
102-64-86 cm (40-25-34 in)
Bra size:
80 E (36DD)
Height:
157 cm (5 ft 2 in)
Weight:
55 kg (122 lbs)
Shoe size:
8,5 US
Eye color:
hazel
Hair color:
blond
Ethnicity:
American
Alias(es):
Rachal Love, Rachael Love
Number of films:
211

Download movies

Movies on DVD
Rachel Love (born November 22 1973 in San Bernardino, California, USA) is an American porn actress. Active from 1993 until today.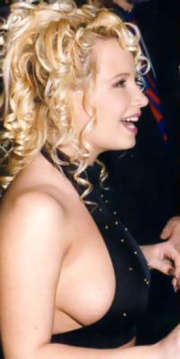 Life
In 1973, Rachel Love was born in California, USA.
In 1993, about the age of 20, Rachel started her career as a porn actress. Since then, she appeared in over 210 movies and worked for studios like Evil Angel, Big Top and Legend.
Love has a navel piercing.
Rachel Love has been photographed by Glenn Francis and Dirty Bob among others.
Filmography
Fan Club Adresse
Rachel Love Fan Club
1606 E. Washington Drive #273
Colton, CA 92324
U.S.A.
External links