Tabitha Stevens
Tabitha Stevens
Tabitha Stevens photographed by Glenn Francis
Date of birth:
February 16, 1970
(age: 48)
Place of birth:
Long Island, New York, USA
Measurements:
86-58-81 (34DD-23-32)
Bra size:
75 E (34DD)
Height:
165 cm (5 ft 5 in)
Weight:
48 kg (106 lbs)
Eye color:
Grün
Hair color:
Brünett
Ethnicity:
American
Alias(es):
Tabatha Stevens, Tabetha Stevens, Tabitha Steven, Tabitha
Number of films:
295 (7)

Download movies

Movies on DVD

Official website
Tabitha Stevens (born February 16, 1970 in Long Island, New York, USA), also known as Tabatha Stevens, is an American porn actress and director.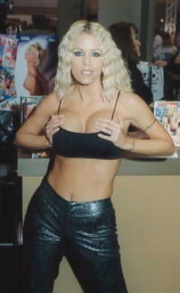 Life
In 1970, Tabitha Stevens was born in New York, USA.
In 1995, about the age of 25, Tabitha started her career as a porn actress. Since then, she appeared in over 290 movies and worked for studios like Jill Kelly, VCA and Elegant Angel.
Stevens has a navel piercing.
Tabitha Stevens has been photographed by Glenn Francis and Dirty Bob among others.
Filmography as actress
Filmography as director
Fan club address
T.F.C.
P.O. Box 5130
Balboa Island, CA 92662, U.S.A.
External links