Leonie Saint
Leonie Saint
Date of birth:
April 23, 1986
(age: 33)
Place of birth:
Herne, Nordrhein-Westfalen, Germany
Measurements:
86-61-84 cm (34-24-33 in)
Bra size:
75 B (33B)
Height:
163 cm (5 ft 4 in)
Weight:
52 kg (114 lbs)
Shoe size:
6 US
Eye color:
blue-grey
Hair color:
black / brunette
Ethnicity:
German
Alias(es):
Leonie Luder, Lolita Monroe

Download movies

Movies on DVD

Official website
Leonie Saint (born April 23, 1986 in Herne, Nordrhein-Westfalen, Germany), also known as Leonie Luder, is a former German porn actress and TV host.
Facts
Zodiac sign: Taurus
Hobbies: walking her dog Lucy, traveling, shopping
History
At the age of 18 years, Leonie started to do porn movies and had big success especially because of her young looks.
In 2006 Leonie became a contract star of the studio Videorama. Videorama produced several movies with her. In the same year, Leonie won the eLine Award in the category "Beste Newcomerin" and in 2007 in the category "Beste Darstellerin Deutschland".
In January 2008 she ended her career as a hardcore performer.
Leonie worked alongside Biggi Bardot as TV host on the show La Notte on 9Live. Leonie also appeared in a video clip of the band "The Other". Leonie has a dog named and a ferret named Gini. Since June 2009, Leonie is the mother of a little girl.
News
On November 21, 2008, Leonie announced her pregnancy. The father is her boyfriend Marc. In July 2009 she awaits the birth of her first daughter.
On May 21, 2009, at 23:10, the episode "Pornostars nach ihrer Karriere - Sex war gestern!" of the TV show "Exklusiv - Die Reportage" airs on RTL II. Besides Kelly Trump and Dolly Buster, Leonie can be seen in her everyday life after ending her porn career.
On June 28, 2009 at 22:36, Leonie gave birth to her first child. The girl's name is Joline. Leonie and the baby endured the birth well.
In Coupé magazine, issue 07/09 is a little article about Leonie and the end of her porn career .
On August 31, 2009, Leonie talks about the dark side of the porn industry in "EXTRA - Das RTL Magazin".
Filmography (selection)
Videos
TV
2005
2006
2007
2008
2009

Taff (Pro7)
Britt (Sat.1)

Taff (Pro7)
MTV Masters (MTV)
Beate Uhse TV
Exclusiv die Reportage (RTL2)
Akte 06 (Sat.1)
Focus TV (Pro.7)
24 Stunden - Die Reportage (Sat.1)

Taff (Pro7)
TRL XXL (MTV)
Beate Uhse TV
Moderation Lanotte (9Live)
Männer TV (DSF)
Love Shack (Giga TV)

Taff (Pro7)
MTV Masters (MTV)
Explosiv (RTL)
Moderation Lanotte (9Live)
Moderation Sportquiz (DSF)

Exclusiv - Die Reportage (RTL2)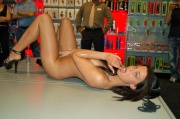 Print
2005
2006
2007
2008
2009

B.Z.
Berliner Kurier
Bild Zeitung
Coupé
Express
Praline
Sexy

B.Z.
Bild Zeitung
Biker's News
Blitz-Illu
Coupé
DreamGirls
Express
Frau von Heute
Hustler Taboo
Joy
St. Pauli Nachrichten
SüdGerman Zeitung

B.Z.
Bild Zeitung
Coupé
Express
KinKats Magazine
Neon
Nighttimes Magazine

B.Z.
Bild Zeitung
Coupé
Neon
WAZ
Miscellaneous
2006
2007
2008
2009

Jana Debus/Kunstfilm Portrait - Leonie Saint
Videonale 11
Internationale Kunstfilmtage Oberhausen
Kunstverein Düsseldorf
MMP auf Mallorca

Radio Brennt; Internetradio mit Ingo Schmoll (1Live); Poppstars fragen Popstars (15 Folgen)
Zeit der Phantasien (Darksun Productions) Horror-Erotik-Thriller
SWR 3 - Interview
The Other - Lover's Lane (Musikvideo)
Destination: Nowhere - Never Die (Musikvideo)
Bloodhound Gang - Musikvideo & Dvd
Filmpremiere "One Way" mit Til Schweiger in Essen
Comet Verleihung in Köln
Bild NRW Party in Essen
Cranger Kirmes - Auftritt im Festzelthammer mit Jürgen Drews
1Live Krone in Bochum
MMP auf Mallorca

Radio Brennt; Internetradio mit Ingo Schmoll (1Live); Poppstars fragen Popstars (6 Folgen); Leonies Frettchen (3 Folgen)
Miss Hooters Wahl Bochum (Moderation)
Hoffmann Nutzfahrzeuge - LKW Kalender
Thunderbike Festival (Presentation von neuen Bikes)
Destination: Nowhere - Take a look at me
Bild NRW Party in Oberhausen
Comet Verleihung in Oberhausen
Bild Single Party in Hamburg
Eurowebtainment auf Mallorca

Radio Brennt; Internetradio mit Ingo Schmoll (1Live); 1 Folge (Leonie`s Frettchen); Folge 73
Männersache (Kinostart 19.03.2009) von Constantin Film; Komödie
Kalidus - Jagdkalender
Radio Bochum - Interview
DSG Custom Guitars - Werbeshooting für Gitarren
Press coverage
Awards
Autograph requests
Leonie Saint
Postfach 60 01 08
44841 Bochum
Germany
External links